Gina Hipsher – Administrator of Elections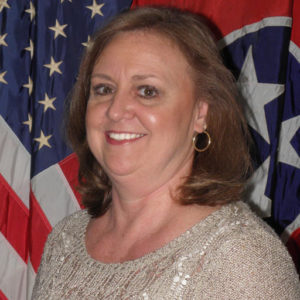 Appointed 2015
The Administrator of Elections is appointed by the members of the the Grainger County Election Commission. The Grainger County Election Commission is comprised of five members appointed by the State Election Commission.
Gina Coffey Hipsher is a Grainger County native and a graduate of Rutledge High School. She graduated from WSCC, Carson-Newman University with a B.S. and M.A Degree, and from East Tennessee State University with an Ed.S. Degree School System Leadership. She became a Certified Administrator of Elections in December 2015. Gina, her husband, their son, and three daughters reside in Rutledge.
Grainger County Election Commission L-R:
The Grainger County Election Commission conducts all elections; city, county, state, and federal. Tennessee Election Laws are the foundation of all administrative election procedures in the State of Tennessee. This law is published under the direction of the Secretary of State and the Coordinator of Elections.
The MISSION of the Grainger County Election Commission is to administer all elections securely and fairly with the highest level of professionalism and integrity; to provide a comprehensive and uniform election procedure; and to encourage all citizens to participate in the electoral process.
The major functions of the Grainger County Election Commission:
Manage all voter registration in Grainger County and all voter list maintenance;
Plan and implement all elections in Grainger County; federal, state, county, city
Provide election information to residents and prospective voters;
Maintain candidate and referendum records, including nominating petitions and local campaign finance reports;
Comply with all State law and promulgated rules regarding Elections in the State of Tennessee and monitor any new legislation and updates for any changes to the law or rules.
Election Commission
119 Marshall Avenue
P.O. Box 28
Rutledge, TN 37861
Phone: (865) 828-5132
Fax: (865) 828-6161
Email: graingerelection@gmail.com
Office Hours: Monday – Friday
8:30 a.m. – 4:30 p.m. EST