Angie J. Lamb | County Clerk
Thank you for the privilege to serve as your County Clerk.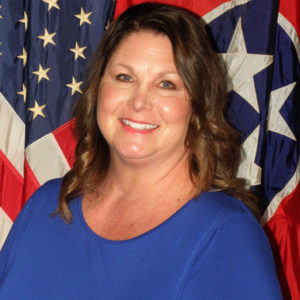 The County Clerk is a constitutional officer and is elected by the people for a term of four years. The Grainger County Clerk's Office has numerous duties to include several types of licenses. This includes but is not limited to vehicle licenses, marriage licenses, county beer licenses and business licenses. The County Clerk's Office also handles the issuance of Driver Licenses renewals or duplicates, Notary Publics and the titling of vehicles. The County Clerk is the clerk of the county legislative body and maintains the official County Commission Minutes which are available for public viewing.
Tag Sales are from 1 p.m. to 5 p.m. at these locations:
1st Tuesday: Washburn Community Center
2nd Tuesday: Blaine City Hall
3rd Tuesday: Thorn Hill Community Center
4th Tuesday: Bean Station City Hall
Angie J. Lamb | County Clerk
Office: 865-828-3511
Fax : 865-828-3203
OFFICE HOURS:
M, TUES, TH & FRI : 8:30 am – 4:30 pm
W & SAT: 8:30 am – 12:00 pm
PHYSICAL ADDRESS:
8095 Rutledge Pike, Suite 103
Rutledge, TN 37861
MAILING ADDRESS:
P.O. Box 116
Rutledge, TN 37861
EMAIL: